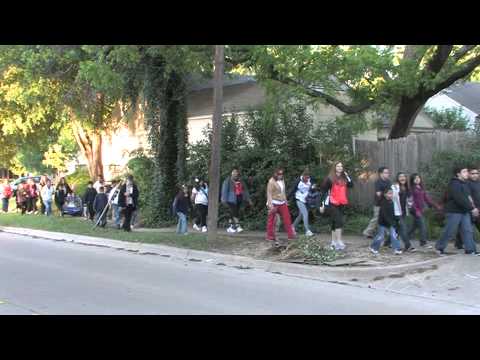 The state of Texas, according to recent statistics, doubles the national average of overweight and obese children (Nation: 1 in 6; Texas: 1 in 3).  Various studies have shown that physical activity in both children and adults has dramatically decreased due to many factors including busy lifestyles, demanding work schedules, and decreased walkable communities. It has been shown that overweight and obese children are more likely to be so in their adult years. 
In an effort to address this growing problem,  Texas AgriLife Extension Service – Tarrant County coordinated a fun and exciting pilot project called a Walking School Bus in the Arlington Heights Community of Fort Worth in partnership with South Hi Mount Elementary School of the Fort Worth ISD. It was a great way to encourage children and families to prevent becoming part of these statistics by increasing their inclusion of a regular regimen of physical activity in their day.  A community-wide effort took form to plan and implement a six week mini-project with WOW days (Walking on Wednesdays).  Students, parents, teachers, staff, and community members were invited to participate in this awesome effort to include physical activity in our daily lifestyle choices fun and accepted as a norm.
If you're interested in volunteering, supporting, or simply joining in the walking fun, please contact Sonia Benavides,  at 817-884-1946smbenavides@ag.tamu.edu.
or by e-mail at